Bronchoscopy on air (Virtual Event) 24/04/2021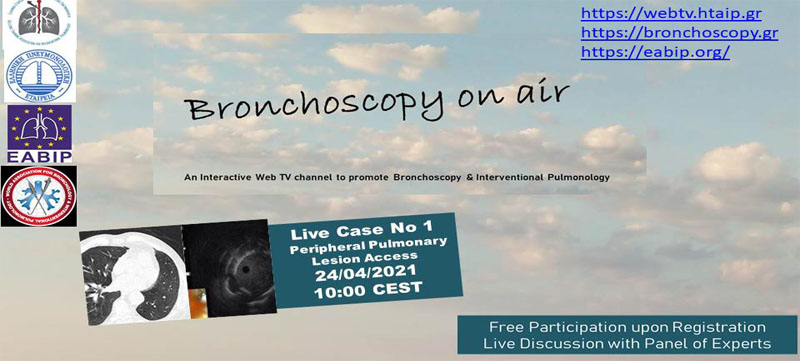 The greek web tv channel of HTA-IP with the co-operation of EABIP and under the auspices of the Hellenic Thoracic Society is launching a new, important project: a series of broadcasts on Interventional Pulmonology clinical cases as "Road to the 6th ECBIP".
The first broadcast is about "Peripheral pulmonary lesion approach" (see the poster in attachment) and it will be held on Apr. 24th at 10:00 – 11:00 am CEST with Professors Grigoris Stratakos, Tudor Toma and Lorenzo Corbetta.
You can watch and discuss the event following the links on the websites below:
https://webtv.htaip.gr
https://bronchoscopy.gr
Program Director: Grigoris Stratakos, MD — Hellenic Training Association for Interventional Pulmonology
Details
Web TV
Video on demand